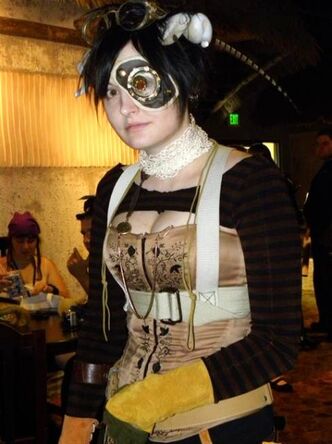 | | |
| --- | --- |
| Nicknames: Max, Iggy, That crazy woman | Alias: n/a |
| Age [at present]: mid 20s | Birthday: October 3rd |
| Western Zodiac: Libra | Chinese Zodiac: Dragon |
| Element: Earth | Blood Type: AB |
| Birthplace: Unknown | Accent [if applicable]: |
| Nationality: Claims Swedish | Orientation: Humans |
| Favourite Colour: Green | Personality Song: MERRY- "Akai Kutsu" |
Physical Appearance
Edit
| | |
| --- | --- |
| Hair Colour: black, white, red | Hair Length: changing constantly |
| Eye Colour: green right eye, missing/mechanical left | Height: 5'5" |
| Scars: her face. half of it is now missing because she blows things up. alot. | Tattoos: some |
| Piercings: ears | Build: slim |
Family and Relationships
Edit
Family: Dead

Romantic Relationship: she doesn't talk about it
Team: Laph Nethersole, Miss Sadie Cross "Olde Drunky"
her team's "theme" is Mucc's "Rave Circus"
Job and Weapons
Edit
Job: Leader of a Mercenary group of assholes. pilfering, plundering, killing, but no rapin'

Gun preference: a steam powered finger mounted mini-gun

Other Weapon Preference: Alchemy/bombs. bombs are awesome. Laph and Sadie almost always get in the way though.. considering she says to run after she throws the bombs.
Backstory
Edit
She's banned from what she calls her homeland for doing strange things and being all-around insane. Leading the group of three in their un-named mercenary group wherever they chose to go. they get work from anyone they don't end up killing (on accident).
Related Articles
Edit
Related Links
Edit
Outside the wiki links go here.
Community content is available under
CC-BY-SA
unless otherwise noted.