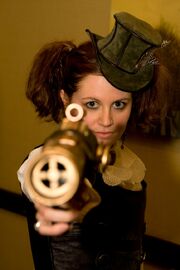 Olivine Drab
Full name:
Olivine Drab
Age:
28
Birth Date:
1845
Place of Birth:
Bath, England
Nationality:
English
Allegiance:
The Imperial Nations
Ship:
SMS Zepherus
Rank:
First Officer
Occupation:
Zepherus First Officer
Olivine Drab is First Officer aboard the S.M.S. Zepherus and often the only thing keeping Kapitan von Grelle from rendering persons, places, and things into smoldering ashpiles. Her expertise lies in organization, rational tactics, and making a proper cup of tea.
Physical Appearance
Edit
As her name would suggest, Ms. Drab is fond of wearing more muted colors, particularly earth tones. Even her dress uniform are in her typical browns and greens rather than the regimental primaries. Her clothes are always kept neat, with nary a speck of dirt and crisp pleats. However, in stark contrast her fair hair is usually kept in untamed, ratted pigtails- typically pinned under a jaunty hat. Overall, with her prim cleanliness, whimsical clothes, and small build it would seem that she isn't a force to be reckoned with... her crew-mates know otherwise.
Family and Relationships
Edit
Olivine is the only child of an Anglican vicar, Edward Drab (an overall delightful man who has issues with the muscles in his upper arms) and his wife Violet. There was probably a large, fluffy dog in there as well, as she lived a fairly tranquil childhood living on the outskirts of the Cotswolds. Drab maintains steady contact with her family through bi-monthly letters which are never late (except for the week that the Zepherus was broken down in Tunisia, where postage was rather sketchy).
She is known to have a romantic relationship of some type with the SMS Halcyon's brewmaster, carpenter, and lookout, an American fellow named Oliver Tree.
Back-Story
Edit
Olivine entered government service as a file clerk, due to an unyielding penchant for order and organization. During her tenure filing intelligence briefs for the British Government, she discovered something that she shouldn't have, and reported the misfiled intelligence, not realizing the dangerous nature of this action. The government, intent on making sure that nothing was known about their less-than-fully-honest nature, decided to bump Olivine up a few ranks, and sent her on a mission to spy on the SMS Zepherus—a post which was almost guaranteed to see the end of Olivine. Fortunately for Miss Drab, Kapitan von Grelle found her to be a worthwhile individual, and so decided to forgo the customary vaporization of spies and traitors, and instead chose Olivine to act as her second-in-command.
Related Articles
Edit
Community content is available under
CC-BY-SA
unless otherwise noted.